Posts for tag: clear aligners
By J. V. Discipio D.D.S. & Assoc. LTD
April 23, 2020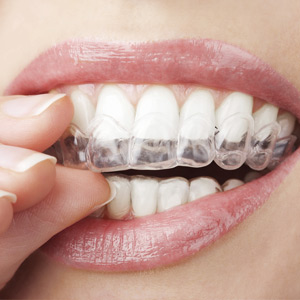 For decades, traditional braces were the only orthodontic choice for moving misaligned teeth. Although they're quite effective, they can cause discomfort and, for teens especially, embarrassment due to their noticeable metallic appearance.
In recent years, though, technology has produced an alternative to braces that's proven effective for many types of patients. Besides being less cumbersome and disruptive to everyday life than braces, clear aligners have another advantage that appeals to teens — they're much less visible.
Introduced in the late 1990s, clear aligners are a system of individual trays made of nearly invisible polyurethane plastic worn over the upper teeth. The trays are computer-generated based on the patient's individual mouth structure captured in photographs and x-rays. Each tray in the sequence is incrementally smaller in size; the patient begins wearing the first aligner in the series for about two weeks, 20 to 22 hours a day. They then switch to the next tray in the series for about the same amount of time, and continue in this fashion until they've worn each aligner in the series.
Besides their improvement in appearance, aligners also have another advantage: unlike traditional braces, aligners can be removed from the mouth for eating or on a limited basis for rare important social occasions. Brushing and flossing are also much easier with aligners, which don't pose the same access problems as traditional braces.
Clear aligners were once only effective with select types of orthodontic patients, which didn't always include teens. Over the last decade, however, significant changes to design and additional implements have widened their application to more patients, especially teens. For example, we can now add tiny "power ridges" to the aligner design that give greater precision over desired tooth movement to create a more controlled and efficient force on the teeth. More recent aligners are also being produced with a thinner, more comfortable material.
A thorough orthodontic exam will tell whether your teen is a good candidate for clear aligners. If so, they'll benefit from a more comfortable and less embarrassing experience while gaining a new smile for life.
If you would like more information on clear aligners, please contact us or schedule an appointment for a consultation. You can also learn more about this topic by reading the Dear Doctor magazine article "Clear Aligners for Teens."
By J. V. Discipio D.D.S. & Assoc. LTD
April 17, 2014
You've probably heard of the relatively new method of straightening teeth with thin, plastic orthodontic appliances ("ortho" – to straighten; "odont" – teeth) known as clear aligners. Here are some reasons you might want to consider them for your orthodontic treatment:
Appearance. Looks aren't everything, as the saying goes. But it may be that metal-covered teeth will not give you a look you want to sport for perhaps a year or more. Adults in particular find that metal braces don't always fit in with their self-image. Because clear aligners are virtually invisible, your teeth will look as they always do and it will not be obvious that you are undergoing orthodontic treatment.
Control. When you have traditional braces, you cannot take them out of your mouth yourself. They must be professionally removed when your treatment is completed. With clear aligners, however, you can take them out to eat and also for important social occasions. Of course, that means you are also responsible for wearing them as often as needed — a minimum of 22 hours a day. It's a good bargain if you can live up to it, and most find that they can.
Hygiene. One of the challenges of traditional braces is to learn to clean around them so that your teeth and gums stay healthy throughout treatment. It's not always so easy to do. With clear aligners, you can maintain your usual oral hygiene routine — and also clean the aligners themselves.
Comfort. Sometimes the rigid brackets and wires of traditional braces can press into sensitive tissues of the mouth. It's something that you will eventually get used to, but it can be uncomfortable temporarily. The material of clear aligners is flexible, so this type of irritation is not an issue.
Versatility. In recent years, the clear alignment system has been improved to handle more serious malocclusions ("mal" – bad; "occlusion" – bite). Enhancements have also been made to accommodate additional growth of molar teeth in the case of teenagers.
While there are some cases in which traditional braces are still the best option, clear aligners have more applications than ever before. They also have some clear advantages that are worth considering.
If you would like more information about clear aligners, please contact us or schedule an appointment for a consultation. You can also learn more about clear aligners in general by reading the Dear Doctor magazine article "Clear Aligners For Teenagers."