Posts for tag: pediatric dentistry
By J. V. Discipio D.D.S. & Assoc. LTD
February 08, 2019
We all know that a child's baby teeth don't last forever. So if those little teeth develop problems, like severe decay, chips or cracks, it doesn't much matter—right? Wrong! National Children's Dental Health Month, observed in February, is the perfect occasion to remember why baby teeth need the same meticulous care as adult teeth:
Baby teeth perform the exact same jobs adult teeth do, only in little mouths. Without healthy teeth, a child can't eat comfortably, speak properly or smile with confidence. Given that the last baby tooth doesn't fall out until around age 12, children need to rely on these "temporary" teeth for a long time!
While there often are no symptoms of early tooth decay, badly decayed baby teeth can become painful—and the problem may get worse quickly. Untreated tooth decay can lead to suffering and expense that could have been avoided with relatively simply dental treatment.
Baby teeth help guide adult teeth into the right position. Each baby tooth helps hold the right amount of space open for the next tooth that will grow in. When a baby tooth is lost before the permanent replacement is ready to grow in, orthodontic problems can result.
As you can see, good dental health has a big impact on a child's quality of life and health—in both the present and the future. That's why it's important to treat childhood dental disease and injuries promptly and properly. Regular dental exams are the best way to keep on top of your child's dental health. If a cavity is discovered at a routine exam, prompt treatment can keep the decay from spreading to the root canals.
If your child plays sports, ask us about a custom-made mouthguard. This small device can protect your child's teeth from serious injury.  And if a baby tooth does get knocked out, let us know. It may be best to fit your child with a very small dental device called a space maintainer, which will hold that empty space open until the permanent tooth beneath it grows in.
If you would like more information about children's dental health, please contact us or schedule an appointment a consultation. You can also learn more by reading the Dear Doctor magazine article "Importance of Baby Teeth."
By J. V. Discipio D.D.S. & Assoc. LTD
March 25, 2017
Cavities can happen even before a baby has his first piece of candy. This was the difficult lesson actor David Ramsey of the TV shows Arrow and Dexter learned when his son DJ's teeth were first emerging.
"His first teeth came in weak," Ramsey recalled in a recent interview. "They had brown spots on them and they were brittle." Those brown spots, he said, quickly turned into cavities. How did this happen?
Ramsey said DJ's dentist suspected it had to do with the child's feedings — not what he was being fed but how. DJ was often nursed to sleep, "so there were pools of breast milk that he could go to sleep with in his mouth," Ramsey explained.
While breastfeeding offers an infant many health benefits, problems can occur when the natural sugars in breast milk are left in contact with teeth for long periods.  Sugar feeds decay-causing oral bacteria, and these bacteria in turn release tooth-eroding acids. The softer teeth of a young child are particularly vulnerable to these acids; the end result can be tooth decay.
This condition, technically known as "early child caries," is referred to in laymen's terms as "baby bottle tooth decay." However, it can result from nighttime feedings by bottle or breast. The best way to prevent this problem is to avoid nursing babies to sleep at night once they reach the teething stage; a bottle-fed baby should not be allowed to fall asleep with anything but water in their bottle or "sippy cup."
Here are some other basics of infant dental care that every parent should know:
Wipe your baby's newly emerging teeth with a clean, moist washcloth after feedings.
Brush teeth that have completely grown in with a soft-bristled, child-size toothbrush and a smear of fluoride toothpaste no bigger than a grain of rice.
Start regular dental checkups by the first birthday.
Fortunately, Ramsey reports that his son is doing very well after an extended period of professional dental treatments and parental vigilance.
"It took a number of months, but his teeth are much, much better," he said. "Right now we're still helping him and we're still really on top of the teeth situation."
If you would like more information on dental care for babies and toddlers, please contact us or schedule an appointment for a consultation. You can also learn more by reading the Dear Doctor magazine articles "The Age One Dental Visit" and "Dentistry & Oral Health for Children."
By J. V. Discipio D.D.S. & Assoc. LTD
May 09, 2015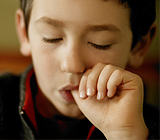 One of the most common parental concerns is the habit of many children, even late into childhood, to suck their thumbs or fingers. Many parents have asked us, "Could this affect their teeth?"
The answer, unfortunately, is yes — thumb sucking can contribute to a malocclusion (bad bite) that could eventually require orthodontic treatment. Before making any assumptions, however, we need to understand the bigger picture.
To begin with, infants have a different swallowing mechanism than adults and older children. When you as an adult swallow, you'll notice the tip of your tongue positions itself just above the back of the top front teeth. An infant, however, will thrust their tongue between their upper and lower jaw as they swallow (also known as an infantile swallowing pattern or primary tongue thrust). The infant normally begins changing to an adult swallowing pattern when their primary (baby) teeth begin to erupt.
However, if a child's swallowing transition is slower than normal and the tongue rests between the jaws for a longer duration, it can inhibit the full eruption of teeth, believed to be the main cause of an open bite (a gap between the upper and lower teeth when the jaws are shut). The thumb during sucking resting between the teeth can have the same effect.
Thumb sucking may not necessarily lead to a malocclusion — for example, an abnormally developing jawbone could be the culprit. If prolonged thumb sucking does become a concern, however, there are steps we can take to reduce the impact of the habit. We can install a thin metal "tongue crib" behind the upper and lower incisors that will not only discourage thumb sucking, but also help retrain the tongue not to rest between the upper and lower teeth. There are also exercise routines known as orofacial myofunctional therapy (OMT) that can retrain specific muscles in the mouth to encourage more normal chewing and swallowing patterns.
These steps may not prevent future orthodontic treatment, but they could reduce its extent. The key is regular dental checkups and consultation to ensure your child's teeth and bite are developing normally.
If you would like more information on the effects of chronic thumb sucking on the mouth, please contact us or schedule an appointment for a consultation. You can also learn more about this topic by reading the Dear Doctor magazine article "How Thumb Sucking Affects the Bite."