Posts for tag: dry mouth
By J. V. Discipio D.D.S. & Assoc. LTD
April 09, 2021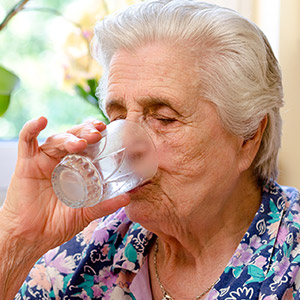 Have you ever woken up in the morning and felt like your mouth was filled with cotton? We've all had bouts of occasional dry mouth, but the unpleasantness usually goes away after we eat or drink something.
But what if you have dry mouth all the time? In that case, it's more than unpleasant—it could be increasing your risk of dental disease. That's because your dry mouth symptoms are being caused by a lack of adequate saliva. Besides providing antibodies to fight harmful bacteria, saliva also neutralizes mouth acid that can cause tooth decay.
Your decrease in saliva could be caused by smoking or moderate to heavy alcohol consumption. It could also be a side effect of medications you're taking, one reason why older people, who on average take more prescription drugs than other age groups, have a high incidence of dry mouth.
So, what can you do to alleviate chronic dry mouth?
Watch what you eat and drink. Certain foods and beverages can worsen chronic dry mouth. Try to avoid or limit alcohol and caffeinated drinks like coffee, tea or soft drinks, as well as salty or spicy foods.
If you use tobacco, quit. Tobacco, especially smoking, can dry out your mouth, as well as damage your salivary glands. Abstaining from tobacco can alleviate dry mouth and help prevent dental disease.
Drink more water. Simply drinking water ensures your body has an ample supply for producing saliva. It's also beneficial for your dental health in general, as it can help buffer your mouth's acid levels and rinse away food remnants that could become food for bacteria.
Speak to your doctor. If you suspect a drug that you're taking may be causing dry mouth, discuss with your doctor alternative medications that may minimize this side effect. Simply changing prescriptions could alleviate your dry mouth symptoms.
You can also try saliva stimulants, both over-the-counter and prescription, to help your mouth produce more saliva. And be sure you also keep up daily habit of brushing and flossing to clear away bacterial plaque and lower your risk of dental disease.
If you would like more information on protecting your mouth from dental disease, please contact us or schedule an appointment for a consultation.
By J. V. Discipio D.D.S. & Assoc. LTD
January 09, 2019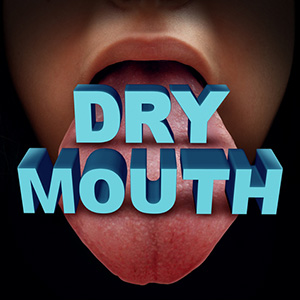 As your mother used to say, "A moist mouth is a healthy mouth." Well, maybe she didn't — but it's still true. Without the constant flow of saliva, your teeth and gums would be less healthy.
That's because among its many functions, saliva helps keep the mouth from becoming too acidic. Just after eating, your mouth's neutral pH level tips to the acidic side of the scale. Acid is enamel's number one enemy, and it takes little time for it to begin dissolving mineral content. But in thirty minutes to an hour, saliva neutralizes the acid; it also helps restore some of the enamel's minerals.
Without adequate saliva flow, acid quickly gets the upper hand. In time, this can greatly increase your risk for dental disease. And for many people, inadequate saliva — dry mouth — is a chronic problem.
There are a number of reasons why. Salivary glands may not produce as much in our later years. In addition, as we age, we may begin taking more medications, some of which can cause dry mouth. Treatments for certain kinds of systemic diseases, particularly cancer, can also inhibit saliva or even damage salivary glands.
If you feel your mouth is continuously dry, make an appointment to find out the cause, which will determine the best course of action to alleviate it. If it's related to your medication, we'll see if there's an alternative. If not, you may need to drink more water when you take your medication and more throughout the day.
There are other things you can do as well. Reduce your intake of acidic foods or caffeinated beverages. Run a cool-air humidifier at night to keep your mouth and nose membranes moist. And you can also try saliva stimulants available by prescription or even over the counter. Chewing gum with xylitol (an alcohol-based sugar) has also been shown to stimulate saliva flow.
Above all, be diligent about daily brushing and flossing and regular dental cleanings and checkups. Keeping a watchful eye will help ensure dental disease doesn't take advantage of your dry mouth.
If you would like more information on managing dry mouth, please contact us or schedule an appointment for a consultation. You can also learn more about this topic by reading the Dear Doctor magazine article "Dry Mouth."
By J. V. Discipio D.D.S. & Assoc. LTD
June 11, 2014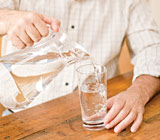 Dry mouth is a condition that many of us have experienced at some point in life. However, for some people it is a problem that can wreak havoc on their lives. This is why we have put together this list of questions we are most frequently asked about dry mouth.
What is dry mouth?
The medical term for dry mouth is "xerostomia" ("xero" – dry; "stomia" – mouth) and it affects millions of people in the US alone. It is caused by an insufficient flow of saliva, the liquid produced by the salivary glands. These glands are located in the inside cheeks of the mouth by the back top molars and in the floor (under the tongue) of the mouth. When functioning properly, they produce two to four pints of liquid every 24 hours.
Can drugs contribute to dry mouth?
Yes, both prescription and over-the-counter (OTC) drugs can cause dry mouth. This is one reason we so often find it in senior citizens, as they are typically on more medications than younger, healthier people.
What about diseases...can they cause dry mouth?
Certain systemic (general body) and autoimmune ("auto" – self; "immune" – resistance system) diseases, in which the body reacts against its own tissue, can cause dry mouth. Other diseases that can be the culprit include: diabetes, Parkinson's disease, cystic fibrosis, and AIDS (Acquired Immune Deficiency Syndrome). Radiation and chemotherapy used to treat head and neck cancers can inflame, damage or destroy the salivary glands—thus causing dry mouth.
Are there any remedies for dry mouth?
Yes! If medication is the primary cause of your dry mouth, there may be other, similar drugs that can be substituted that do not produce the same side effect. If you feel this describes your situation, discuss your concerns with the prescribing physician. Another option is taking an OTC or prescription saliva stimulant to temporarily relieve the dryness. Or, you can suck on a candy made with xylitol, a natural sugar substitute, four to five times a day. Xylitol has been shown to help stimulate the production of saliva with the added benefit of reducing the odds of getting cavities.
To learn more on this subject, continue reading the Dear Doctor magazine article "Dry Mouth." You can also contact us today with any questions or to schedule an appointment.